What are the Differences between Trimmers and Guillotines?
Many people often refer to trimmers as guillotines. The term guillotine generally refers to a machine which cuts through large thicknesses of paper, often up to a whole ream or more in thickness. A trimmer on the other hand generally trims down smaller wads of paper.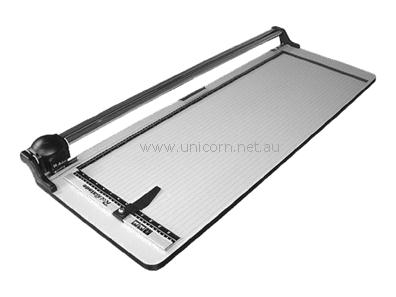 Let's split them into their rightful categories so we can narrow down the field and look at the purpose of each type of guillotine or trimmer.
We should start with the rotary trimmer.
Rotary trimmers, or rotary cutters as they are often referred to are very well named as they have a rotating blade which runs across a table of various lengths.
Rotary trimmers are the ideal cutting tool for trimming down paper, cardboard, laminated documents, photographs, scrapbooking, arts and crafts.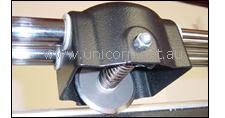 The length (often referred to as format) of the rotary trimmer that you choose will depend on how long the paper stock is that you want to cut.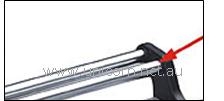 Like most products there is a huge difference in brand quality. Accuracy and strength of manufacture are the most important features. Some machines have flimsy plastic blade carriages whilst other higher end products such as the Roll@Blade series have solid metal blade carriages and self sharpening tungsten steel blades. For additional stability and accuracy these machines also have dual sliding poles. The blade depth is also important. Many manufacturers such as Neolt trimmers have a .8mm cutting depth whilst the Roll@Blade cuts up to 2mm in depth.
Formats range from A4 to 2.5 meter cutting lengths. The Neolt manual trim have 5 models from 1 meter up to 2.5 metres in length. The Roll@blade 160 has a 1.6 metre wide cutting length with a 1mm cutting depth.
Smaller desk top models such as the Roll@Blade 460 is perfect for up to A3 trimming, the 680 model cuts up to 680mm then the 920 model cuts lengths up to 916mm. The smaller trimmers have a deeper cut of up to 2mm. These trimmers are capable of cutting a variety of materials from fine cotton, leather, laminating film, PVC, polypropylene and of course paper and card stock.
Blade Trimmers is the next category up from rotary cutters. Blade trimmers or guillotines are generally used to cut relatively thick wads of paper stock of various lengths. Small desktop blade trimmers such as the IDEAL 1038 have a cutting length of 385mm. The IDEAL 1058 as the name implies cuts up to 580mm and the big brother the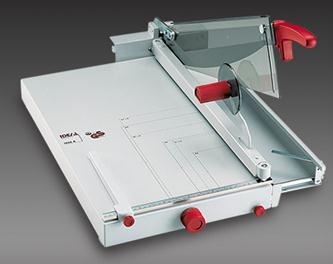 IDEAL 1071 cuts lengths of 710mm in length. All machines are capable of cutting up to 40 sheets in capacity.
Longer length cuts such as the IDEAL 1080 and IDEAL 1110 guillotines include a stand, foot clamp and collapsible extension tables. They have a cutting depth of up to 15 sheets.
Ream Guillotines again vary in cutting depth and length of paper cut. The main points to consider when you are looking for a good guillotine are how often you use it, the length and the depth of cut you need. Generally SR A3 guillotines (also known as A3 oversize) are a common request.
IDEAL have a range of very good quality manual and electric guillotines ranging from the manual IDEAL 4205 which has a cutting length of 430mm and a cutting height of 40mm.
The KW Trio series which matches the ideal 4205 is the KW Trio 3946 high capacity guillotine model. The KW Trio has a cutting height of 55mm and a paper cutting length of 430mm. Although a manual guillotine it has a very strong geared clamp which holds your paper stock down very securely. Its crank adjustable back gauge and micrometre produces very accurate cuts.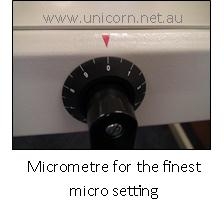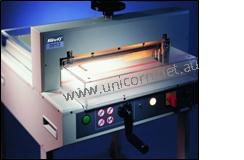 Manual guillotines with good leverage like the KW Trio 3946 are easy to use. It is a common misperception that manual guillotines are difficult to use. The problem is that some are. However, we have seen many women in print shops use KW Trio 3946 guillotine with ease. If you do not need to cut high volumes of paper then you might prefer to save your hard earned dollars and buy a good quality manual guillotine such as the 3946.
If your paper cutting volumes are more demanding there are 2 electric models in the KW Trio series, the 3952 and the 3982. The 3952 is very reasonably priced for an electric guillotine. It is budget end price wise but is a very good quality of manufacture. Its big brother the KW Trio 3982 is fully programmable with a 470mm cutting length and optical cutting line. We have found these machines to be the best value for money guillos on the market today.