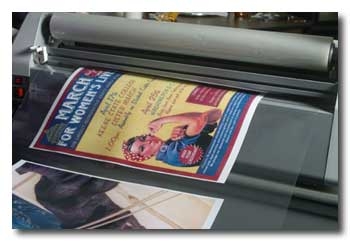 Now we will discuss roll laminators.
Roll laminators operate with 2 rolls of film of various thicknesses and widths. They are generally used to encapsulate wide format material such as posters, signs, maps and large plans.
The thickness of the film chosen will depend on the intended use of the article. For example maps and plans are often laminated in thinner film (sometimes as thin as 38 micron) because the document can be rolled up and easily transported into the field.
Remember roll laminators are available in a range of widths. The laminating width chosen depends on the size of the document you need to laminate.
For example posters are often 800 mm in length therefore they need to be laminated with a 800 mm wide laminating roll. Narrow widths, (as narrow as 330 mm) is often used for continuous laminating of volumes of documents such as certificates and the like.
So how do they work? Effectively the machine carries two spindles on which the rolls of laminating film is slipped on to. Each roll of film is wrapped around an inner core; the core size required will depend on the model of the laminator. Some cores are 58 mm in diameter whilst others are 25 mm. One of the rolls is mounted at the top and the second roll located below. The material is positioned between the two rolls of film which is then heated as it passes through the roll laminator and is pressed as the document exists the machine so that the film bonds together, sealing the document.
Many machines such as the Emseal Compact series have optional cutting knives to separate each item. The laminated documents are usually then trimmed with a wide format trimmer such as the Roll@Blade 160 to produce neat, even edges.