Tired of outsourcing and looking to produce your own professional booklets in-house? We put the automatic BookletMac through its paces. No warm up time and very easily set up. We found short runs to be very economical as we found adjusting the stapling heads quick and easy when needing to make appropriate adjustments when changing paper size.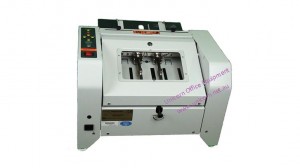 We found the BookletMac to be an impressive compact machine and also exceptionally fast, quiet and versatile. This desktop booklet maker produced good looking booklets in seconds.
All you do to produce booklets is to simply insert your sheets into the feeder and the machine folds and staples precisely and easily. This Booklet maker is multi-functional so you can choose to fold and staple, fold only or staple only. Side and corner stapling is also achievable. It folds and staples all common paper sizes including letter, legal, A4 and A3.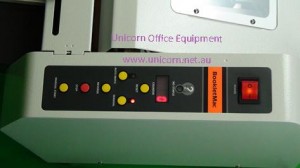 The Booklet Mac has 5 stapler head locations and uses chisel point or loop staples. There is also a convenient "No Staple!" warning indicator when the machine is out of staples. The built in LCD counter makes it easy to keep track of how many booklets you want to produce. It is capable of folding 16 sheets being 64 pages in total and can produce up to 800 booklets in an hour.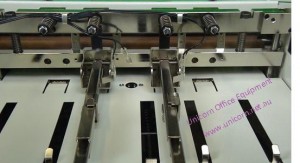 The staple head distance is 108mm and 216 mm. Minimum sheet sizes are A5 and maximum A3. Minimum booklet size is A6 and maximum booklet size is A4.
Overall we found this machine to be very well manufactured, easily adjustable, economical and a great machine for short or long runs of booklet making.